There is never a dull moment in my house. Summer vacation has been in full swing for a few weeks now, so the kids have gone through the "bored" phase and have moved on to finding creative ways to spend their time...
Like pulling pranks.
The culprit is The Girl, and let me tell y'all, she's good at it. We have absolutely no idea when she's setting one up, and they are funny as hell. She takes great time and care in planning and executing them, so we've only had the pleasure of 2 of her pranks thus far. But these are too amazing to not share as they come along.
The first one made me fall into the floor, laughing so hard. This is our downstairs bathroom...
And tonight, she got Hubby with the next one. After dinner he went into the freezer to get some ice cream,
and this is what he found:
This one was so good that Hubby couldn't even get mad. He just laughed. Hey, at least I should be happy she cleaned the container out to make it easier to recycle...
Never a dull moment in my house, and I absolutely love it!
Head on over to the Tattler Thursday Blog Hop for some funny stories from other mom bloggers!!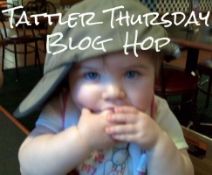 If you enjoy Inklings, please take a second to just click the banner below. Each click = 1 vote, and you can vote once per 24 hours. I do happy dances when people vote!